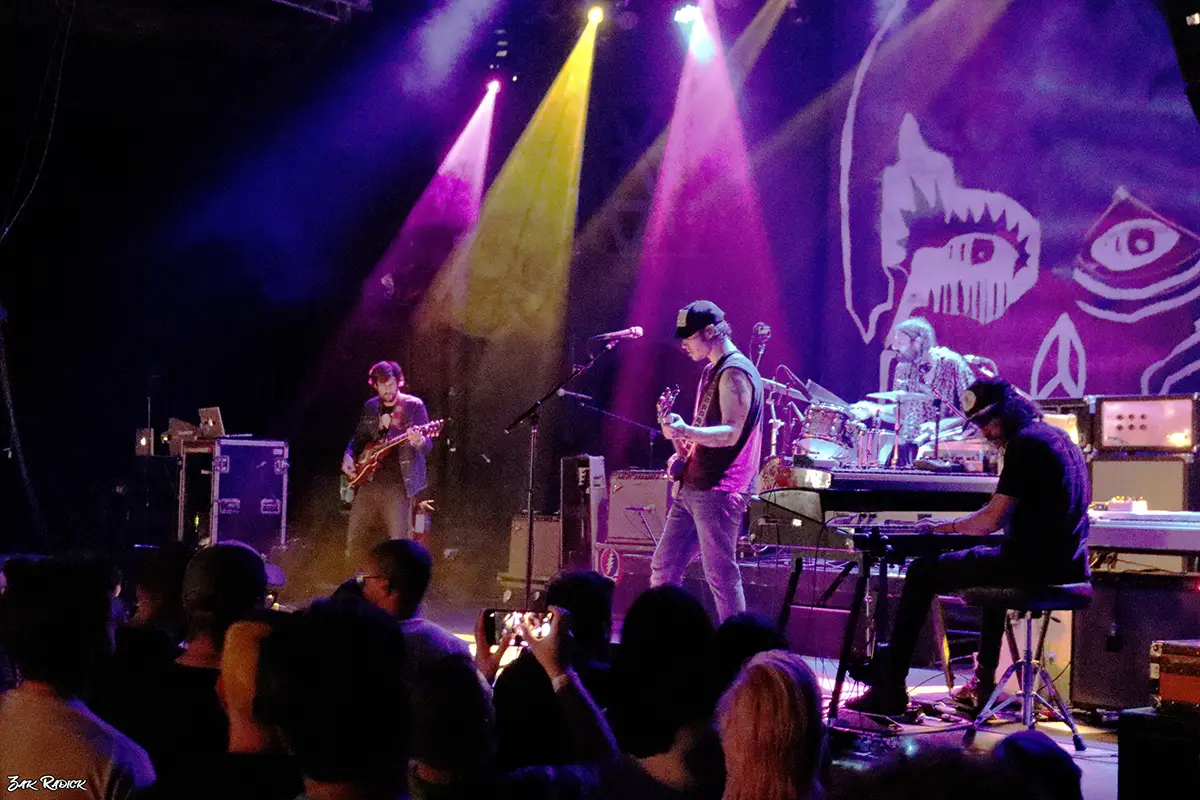 Finding a rare balance between heavy riffs, southern blues and psychedelic space rock, Nashville, Tennessee's All Them Witches wowed a packed Westcott Theater crowd on Tuesday, May 10 in Syracuse. Now celebrating ten years as a band and also the birthday of one of their founding members, fans were treated to a career spanning powerhouse performance of unapologetic, in-your-face stoner-rock of the highest caliber – gloomy yet groovy, visceral, thought provoking and loud. Very loud.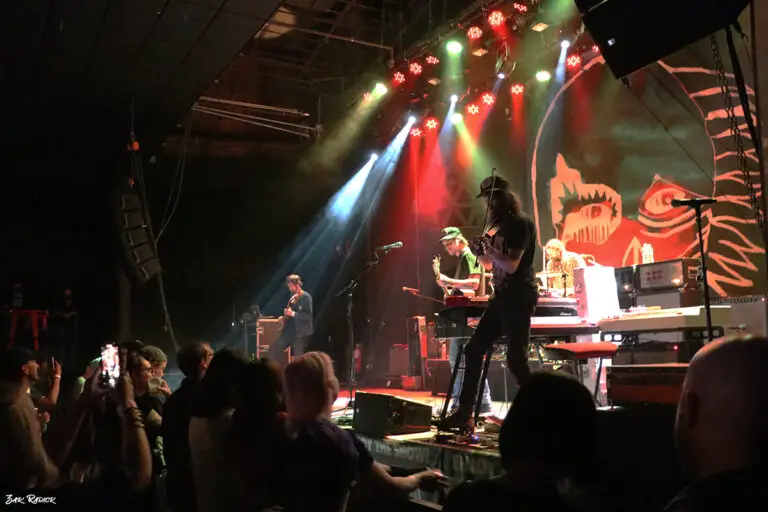 Garnering a substantial "cult-like" fan base through a decade of relentless touring, All Them Witches (AIW), comprised of birthday boy Ben McLeod on guitar, vocalist Charles Michael Parks Jr. on bass, drummer Robby Staebler, and multi-instrumentalist Allan Van Cleave on keyboards and violin, have firmly established themselves as heavyweights of their genre.  The Nashville psych-rock quartet already has an impressive six studio albums and three live albums under their belt.  Sidelined by the pandemic for the better part of two years and eager to play in front of people once again, the Witches' are currently in the midst an extensive spring tour, one that often sees them doing five nights in a row.  We caught up with the hard working and harder rocking road dogs as they rolled into the Westcott Theater for a special Tuesday night treat.   
With a stage setup that featured a massive backdrop depicting the same "acid face" seen on much of AIW's merchandise, the show began at 8pm with a blistering opening set from Ocean City, Maryland psyc-metal power trio The Swell Fellas. Their first time hitting the road on a national tour, the band expressed their sincere gratitude to 'The Witches' for showing them the ropes and bringing them along. After their impressive and thunderous, percussion heavy performance, the house lights dimmed and it was finally time to see what sort of strangeness our headliners were brewing up.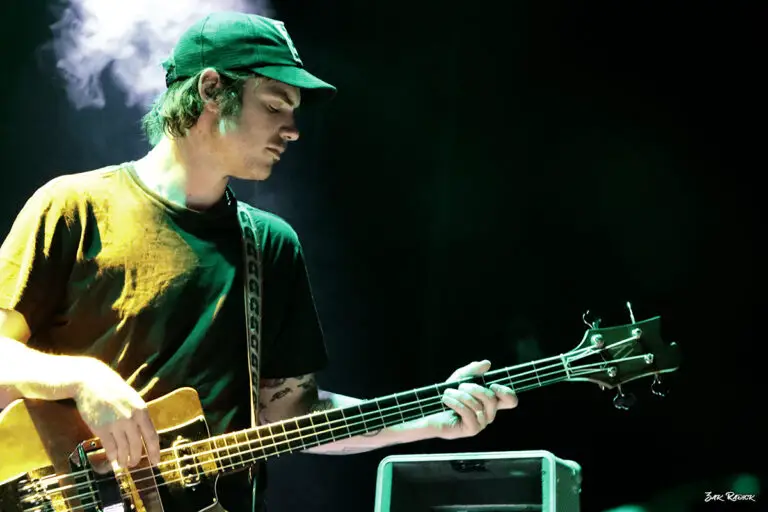 As the silhouettes of All Them Witches took their positions on the darkened stage, an eerie and brooding ambiance began funneling in, swelling and building tension in the now mostly full room. Finally, after much anticipation, the thick bass line and steady snare beat of the song "See You Next Fall" kicked in as vocalist Charles Michael Parks Jr. crooned his first words of the evening, "If all is well / I can not tell," setting the tone for the heavy subject matter still to come. As the layers of sonic distortion, spacey textures and psychedelic fuzz continued to amplify, there was always a type of impending dread under the surface.
The band was always in control, showing a calculated restraint while building the tension to a boiling point before The Witches would finally kick on the overdrive pedals and unleash an all-out sonic assault of the senses. Brilliantly executed throughout the evening, the band was able to 'craft' a well-balanced setlist that both kept the listener on their toes and built momentum through the duration of the show. Working their way through AIW staples like "When God Comes Back,"  "Diamond," and "1×1" (which featured the crowd shouting in unison "I can't wait to be defeated,") the band flexed their musical might with a cool confidence that never seemed too "over the top."
Rooted in the blues, but with a propensity for all things heavy, the influences for AIW's sound are all over the map. While you would never confuse them for the Grateful Dead, it was hard not to notice the huge Steal Your Face slap on guitar player Ben McLeod's amp, or the Gilmour influence on stand out tracks of the night like "Saturnine & iron Jaw," which goes from delicate and tasty Pink Floyd-esq licks to suddenly shifting directions to a chugging, meaty crunch reminiscent of bands like Tool and Mastodon.  Perhaps the essence of this versatility was best on display during the incredible one-two punch of the bluesy, almost spoken word styled "The Marriage of Coyote Woman" which alligatored nicely with the relentless riffage of "Enemy of My Enemy." Footage of that can be seen below:
Pausing for a moment to acknowledge The Swell Fellas kicking off the party, Parks would then lead the crowd in a "Happy Birthday" singalong to bandmate Ben, who suddenly found himself on stage alone in the spotlight.  Seizing the opportunity, McLeod would noodle his way into a beautiful instrumental called "Everest."  When the rest of the band returned to the stage, Parks claimed the birthday boy had wrote that song when he was just twelve years old.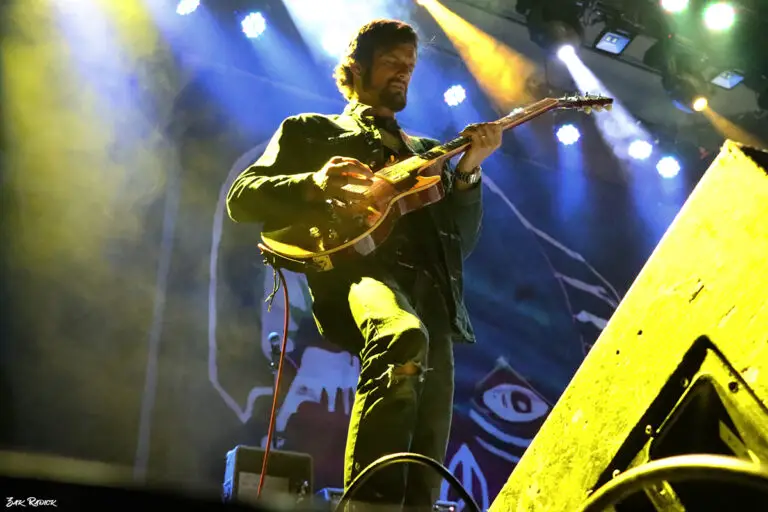 Now trading his bass guitar for an acoustic one, Parks would duet with Allan Van Cleave on electric violin for the song "The Children Of Coyote Woman."  Van Cleave, an original member clad in a ridiculous cat shirt, took a break from the band in 2018 and only has played a handful of shows since rejoining The Witches in 2021. Afterwards, the multi-talented Van Cleave could be seen talking with fans, handing out setlists and taking selfies, clearly happy to be back on the road again.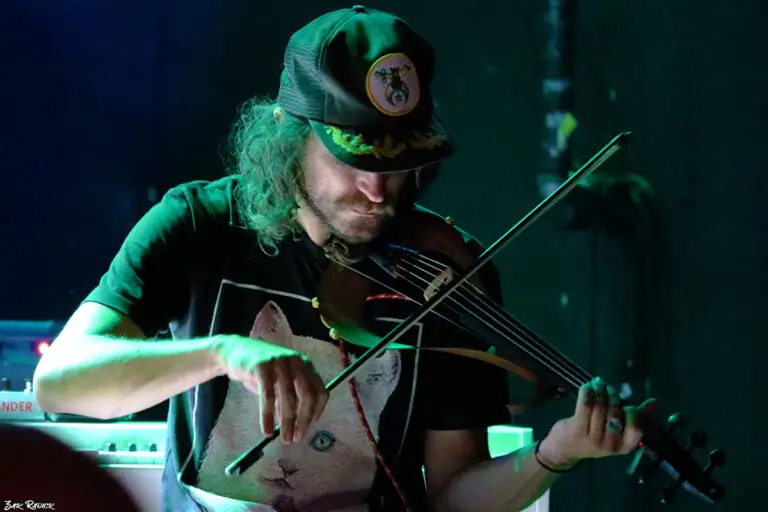 Moving forward, vocalist Charles Michael Parks Jr. then introduced a song the band has "rarely played," partially because it's a newer one called " Fall into Place."  A decade into their career and with six albums to choose from, it was obvious they couldn't play everything.  As fans started to worry they might not hear their favorite AIW song, many of those fears were quelled when The Witches launched into "41" and then closed out the set with a towering rendition of "Blood and Sand / Milk and Endless Waters."  Exiting stage left to a rousing ovation, the boys still had one song left in their back pocket. The one people were calling out for all evening long. 
After a brief encore break and some more begging from the thirsty crowd, All Them Witches returned to the stage to send them home happy.  Whether they heard their call, or were perhaps playing the audience like a fiddle, the band closed the show with perhaps their most well-known song, "Alabaster" which Parks described as a "dancing song, if you feel comfortable enough." As the band took their final bow of the evening, Parks then simply said, "Thanks everybody.  Get home safe.  We love you a lot." Footage of the band performing "Alabaster" can be seen by clicking on the link below:
An impressive performance from start to finish, the band showcased exactly why they are at the top of their genre.  While their name my conjure up some preconceived notions, It was a pleasant surprise to see the vibe wasn't all doom an gloom.  At one point, Parks even stated  he "hoped everyone had a good time, maybe talked to some new people, made a new friend. Cause that's what it's all about. We're all in this together, so it's important to try and love thy neighbor." Complete with a distinctive sound, attention to arrangements, great vocals and strong visuals, All Them Witches have artfully crafted a presentation full of technical complexity, subtle nuance and mystery. A band worthy of your time.   
All Them Witches | 5.10.2022 | Syracuse, NY | Westcott Theater
Setlist: See You Next Fall, 3-5-7, When God Comes Back, Saturnine & Iron Jaw, Diamond, 1×1, Fall Into Place, Everest, The Children of Coyote Woman, The Marriage of Coyote Woman, Enemy of My Enemy, 41, Blood and Sand / Milk and Endless Waters
Encore: Funeral for a Great Drunken Bird, Alabaster
For more photos of this show, check out the full gallery below, courtesy of NYS Music photojournalist Zak Radick.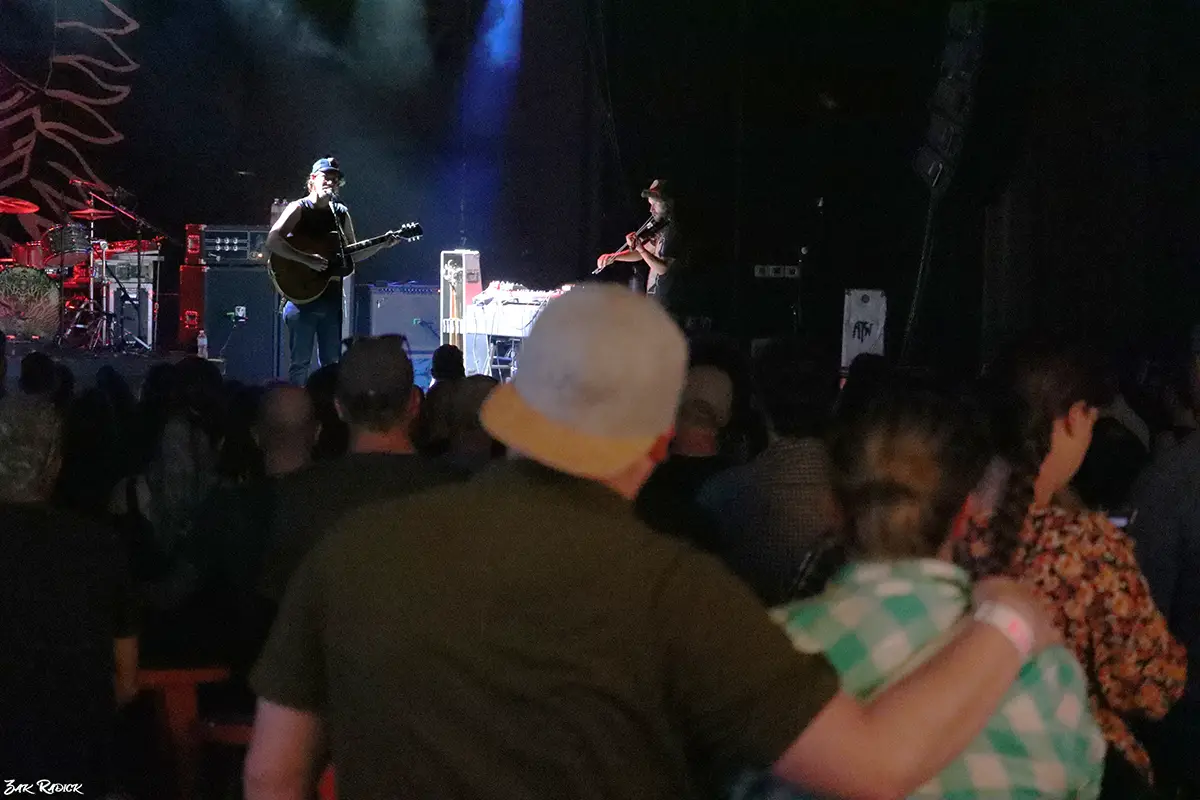 The post Masters of their Craft: All Them Witches Spellbind in Syracuse appeared first on NYS Music.