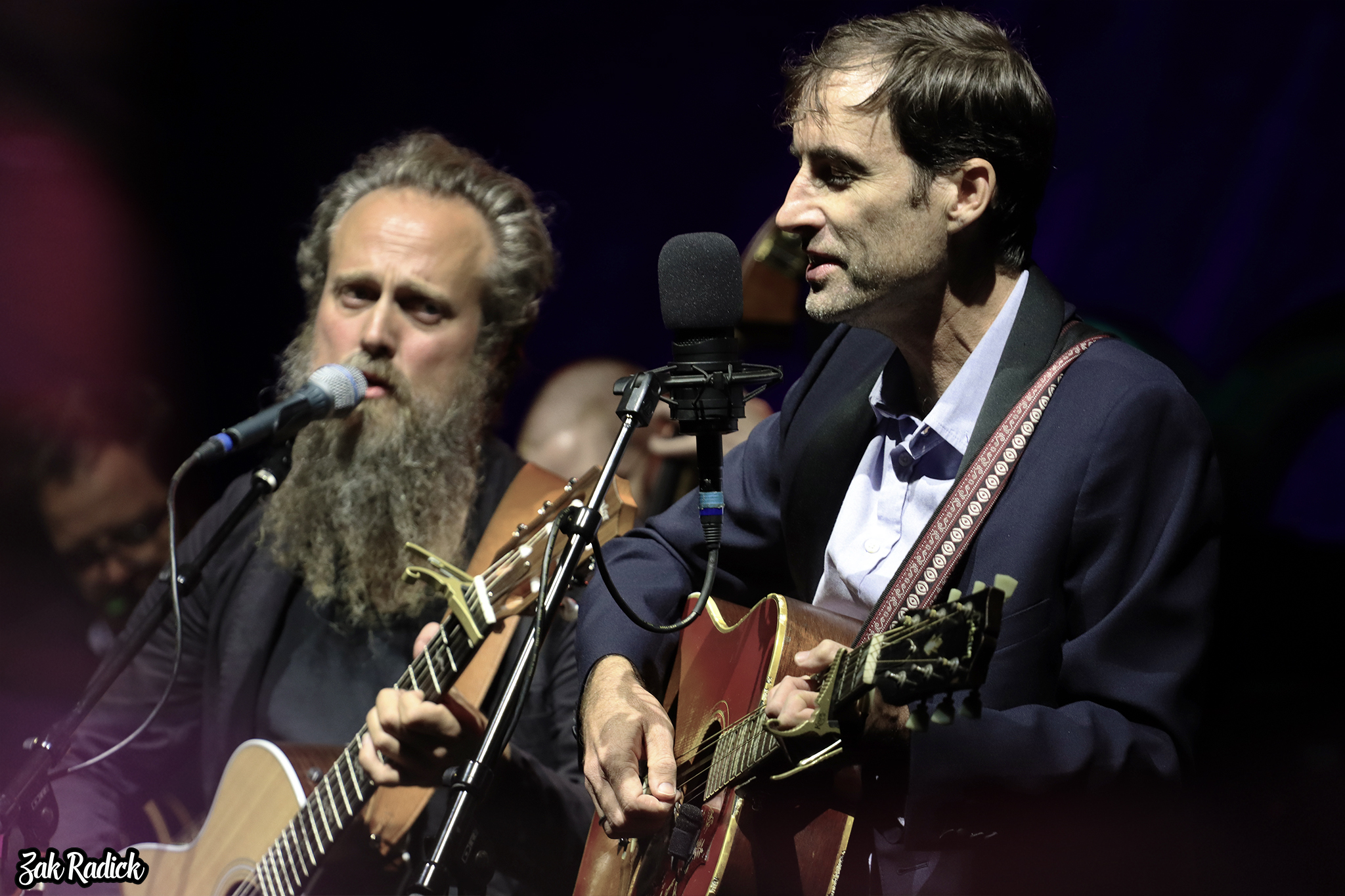 Another gorgeous evening in the hills of Lafayette, nestled into the apple orchards at Beak and Skiff. Another night filled with sweet sounds by another incredible lineup brought in by Dan Smalls Presents. Tonight it was Andrew Bird and Iron & Wine providing music fans from Syracuse, and beyond, with good reason to be out on a Tuesday. The bands came through on the back end of their Outside Problems tour, a tour two years in the waiting. It was first planned for 2020, but then, you know…
Amongst his wacky banter, Sam Beam, aka Iron & Wine, summed up the evening's offerings quite well. "You guys just hanging out in an orchard all day listening to some music?"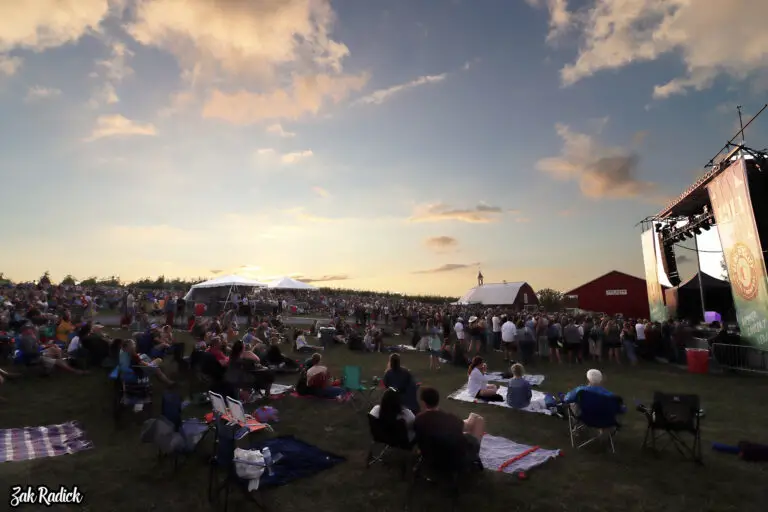 Of opener Meshell Ndegeocello, "If you don't like that, I don't know what's wrong with you." Indeed, Ndegeocello and her quartet, in a quick 30 minutes, blended reggae grooves, folk-tinged psychedelia, soul, rhythm and blues and a touch of jazz. Echoey fuzzed out guitar, cosmic keys, charging beats all swirling around her mesmerizing bass lines. What's not to like?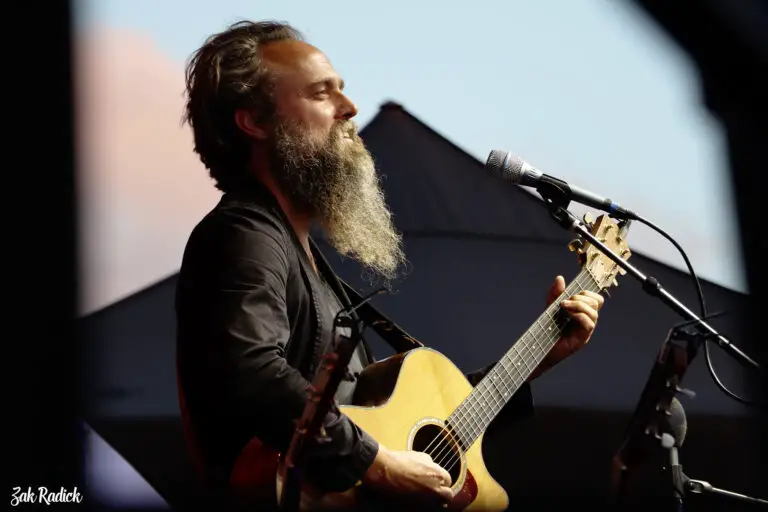 About his own set, Beam remarked, "I've got a lot of long, incredibly sad songs for you." Moments later he backed off, saying his songs aren't all the sad, they're just not that happy. Sad or not, he had the crowd in stitches with his bizarre banter and in-song ramblings and riffing. In the set opening "Such Great Heights," he cut-in to the beauty to talk about warming up by covering ourselves in applesauce and tears. "Rabbit Will Run" began with a story about Syracuse native Tom Cruise drifting off to sleep and dreaming about another Syracuse native, Grace Jones, whispering in his ear, singing the ensuing song, with harmonies by yet another Syracuse native, Richard Gere. Just your normal run-of-the-mill folk singer chitchat.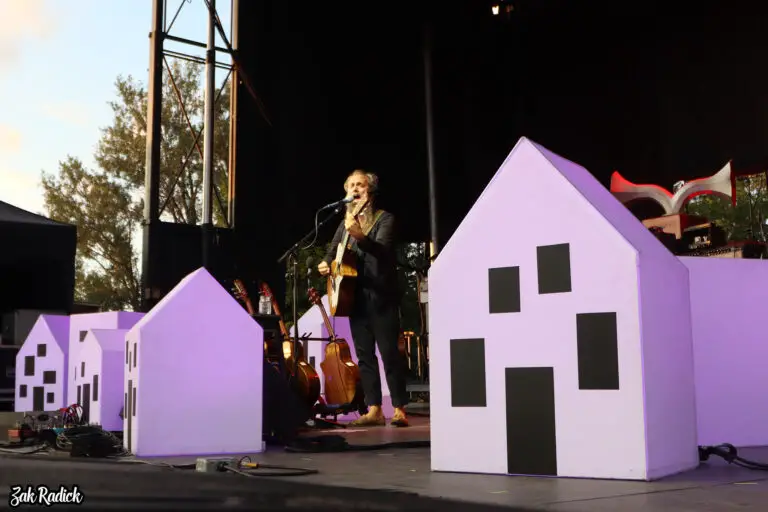 He played 45 minutes, solo, amongst a neighborhood of small white houses. In the tour's original intent, he had just completed a new album with Calexico and they would have been on with him as well. He played just one song from the album, "Father Mountain" and filled the rest of the set with some of his most recognizable tunes from throughout his career. Contrasting starkly with his playful mood, his performance of "Flightless Bird, American Mouth" went nearly acapella. His hands worked the frets of the guitar but never strummed until the final verse, quite beautiful and moving. Elsewhere and particularly on "Woman King" he worked the lower register of his guitar masterfully with a mix of picking and strumming.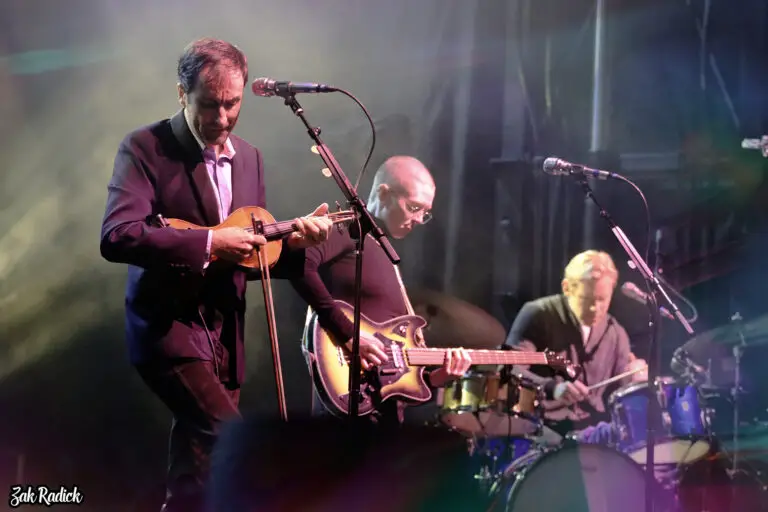 Continuing his narration of the evening, Beam previewed Andrew Bird's closing set with, "Bird is going to whistle his way into your heart." The set opened with a flourish of Bird's signature fiddle and whistling looping and building to a one man orchestra briefly before his quartet broke through into "Make a Picture." Bird was joined on stage by an incredible band, with Ted Poor on drums, Tyler Chester on keys and guitar, and Anna Butterss, on bass.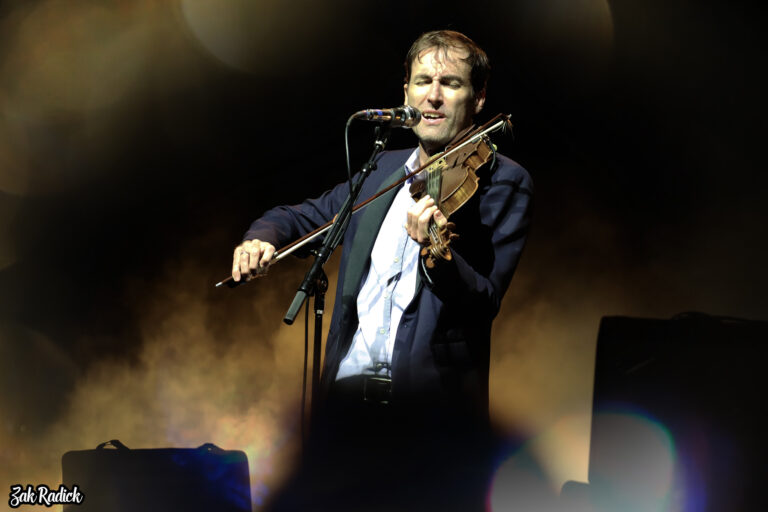 Unlike Iron & Wine, the timing of the tour worked a bit better for Bird, with his excellent new album, Inside Problems hot off the press. He played heavily from it throughout the set. Poor impressed with complex rhythms on "Atomized" and Bird added in plucked fiddle, looped that and then added in fiddling and some whistling syncopated with more plucking. Anyone who has seen Bird solo knows him for his incredible use of layering loop upon loop to provide a unique richness of sound. But with the extra hands in his band, the richness reached another level.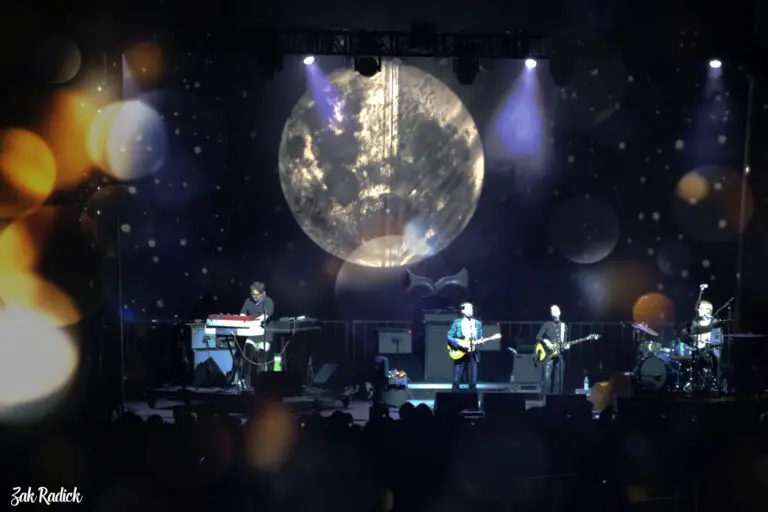 The excellence was exemplified perfectly in a mid-set "Underlands." The lyrics and the backdrop synced up, a moon, the stars, the story was laid out for the ears and eyes. Butterss set the scene musically with an infectiously slinky bass line. Poor again was shining with some very tasty rhythms and fills while Chester worked in some nice keys. And this was just the base for Bird to work his magic. Butterss incredible harmonizing with Bird's whistling sent the whole affair straight up to the moon for real. It was wonder to see this band present Bird's fantastic new album from the stage.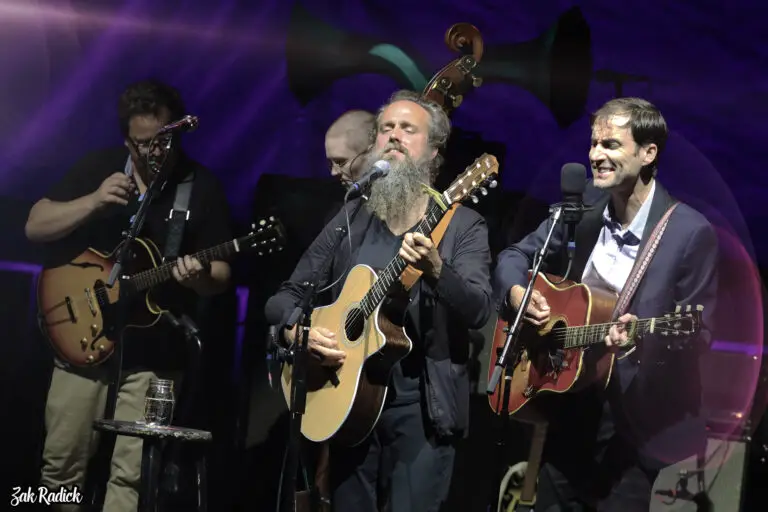 Midway through the set Beam came back on stage to play some duets with Bird. A perfect pair, it's a shame it hasn't happened sooner. On each of their own songs, like "Orpheo" and "Muddy Hymnal" their voices and instruments blended very well. The band came back to back the pair for a few more songs, mostly acoustically. They crowded to the right side of the stage for a more intimate setting, continuing with "Left-Handed Kisses", "Lion's Mane" and "Lusitania." Before ceding the stage back Beam injected a bit more of his humor playing a snippet of the Golden Girls theme, "Thank You For Being a Friend." We can only hope this friendship bears more fruit in the coming years.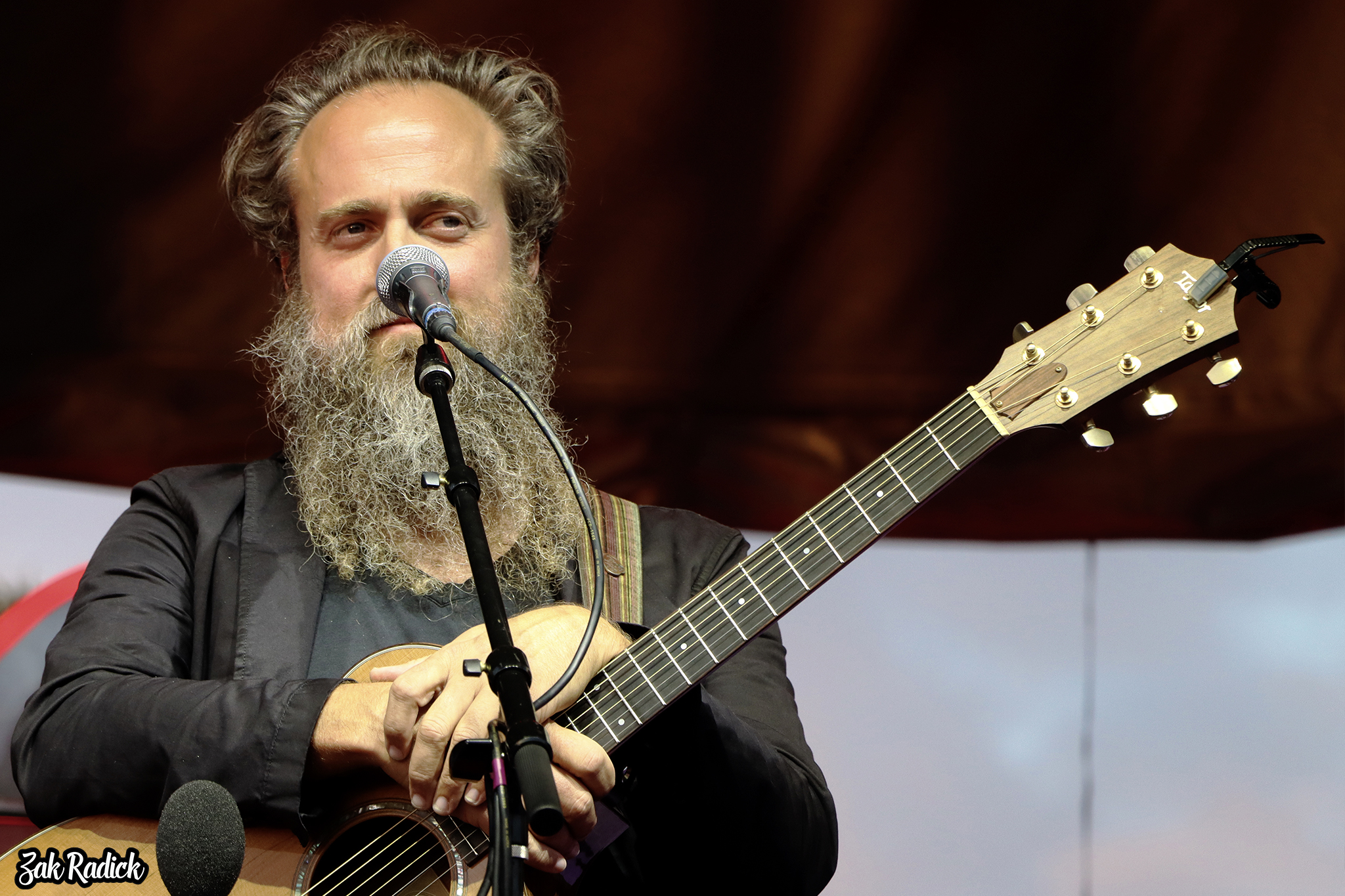 The post Andrew Bird and Iron & Wine Sound Sweet at Beak and Skiff Orchards appeared first on NYS Music.