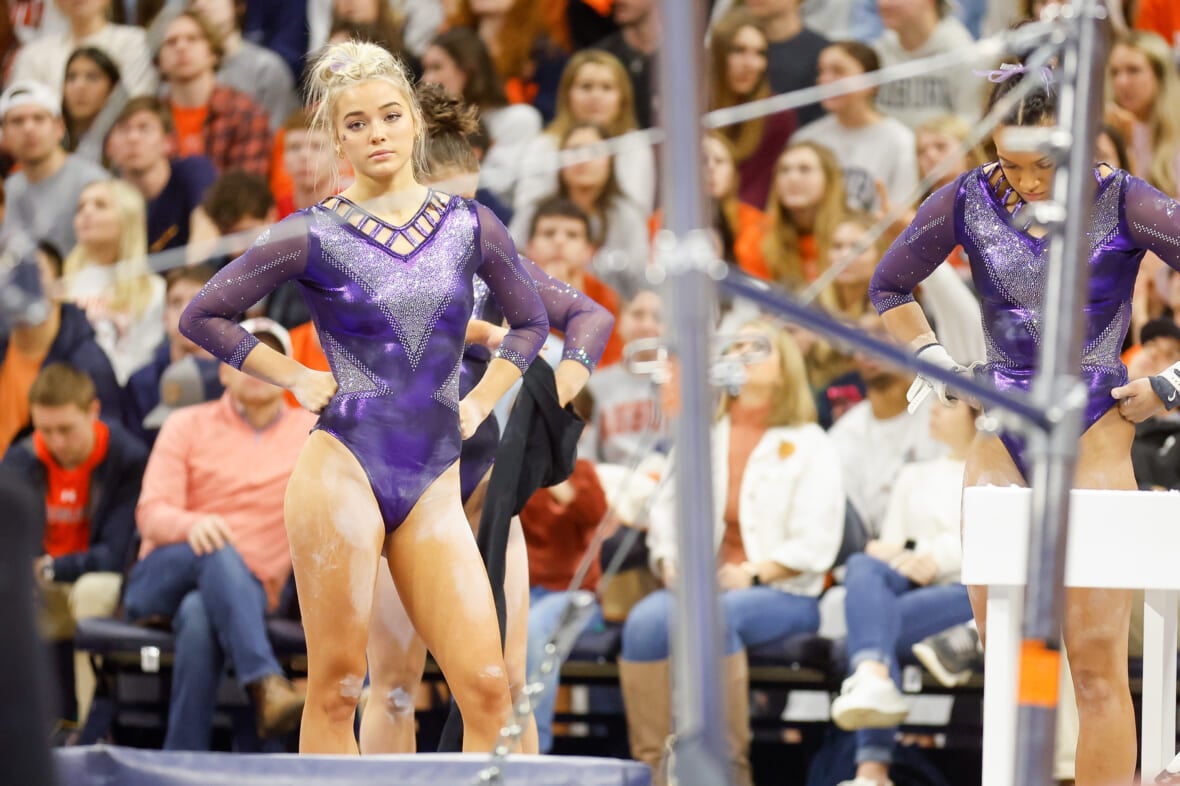 Louisiana State University gymnast Olivia Dunne, 20, is opening up about the "life-changing" Name, Image and Likeness (NIL) policy that's allowed her to earn a seven-figure income while still in college.
The All-American Division I athlete has been training since she was 3 years old. She became the youngest USA International Elite gymnast at age 11 and won gold with the USA Junior National Team in 2017.
But Dunne is also a superstar influencer, currently with 7.2 million followers on TikTok and another 3.7 million on Instagram. And thanks to the NCAA's 2021 adoption of the NIL policy allowing student athletes to market themselves for financial gain, she's officially the collegiate athletics organization's highest-paid female athlete.
"[I'm] very grateful to be making seven figures a year," Dunne told People as a subject of the magazine's upcoming "Women Changing the World" issue.
According to college sports and recruiting platform On3, which tracks NIL deals, Dunne is earning an estimated $3.4 million in sponsorships with brands like Grubhub, Forever 21 and Leaf Trading Cards. She also revealed to People that her first deal was with clothing brand Vuori, and Dunne is "still with them to this day."
"There was no roadmap of how to do school, your athletics and social media all at the same time," Dunne told People. "There's really no one that's ever done it. And I figured I could change that. I could pave the way and be a good example to young girls that look up to me."
Dunne wants to be a role model for young female athletes with aspirations of achieving similar feats. She and fellow gymnast Sunisa Lee are the only two women among the top 10 highest earners in the NCAA, and that's a statistic she'd like to change.
"With gymnastics, you peak when you're about 15 years old," Dunne told People. "After college, there's nothing really for gymnasts. There's so many professional leagues for men's sports after college, but there's such a small timeframe for women to capitalize."
Ultimately, she wants equality in opportunity for all NCAA athletes.
"Opportunities for men and women in NCAA sports should be equal. But a lot of the NIL collectives only go to men's athletics," she added. "I want to show you can do whatever you love—whether it's gymnastics or music or painting—and capitalize on it and create your own business."