There might not be a spirits category out there right now that's risen to the occasion more than Irish whiskey. Yes, you've probably shot your fair share of Irish whiskey, but on the brink of St. Patrick's Day, rethink what you thought you knew about the spirit.
There's a slew of Irish whiskies bolstering the category. Take your pick from Irish whiskey incorporating 100 percent rye, or track down a bottle with a price tag to compete with the finest luxury Scotch on the planet.
Of course, there's still a plentiful crop of Irish whiskey you can pair with a Guinness, too. Before you make space in your bar cart or order another round at your local pub, check out some of the best Irish whiskeys worth sipping right now.
Method + Madness Single Grain
When the Irish whiskey market took a downturn decades ago, it seemed it might never bounce back–not least of all to give a micro-distillery like Method + Madness the leeway to experiment with aging in virgin Spanish Oak casks. The spirit contained within this artsy, handsomely designed bottle is then finished in first-fill American bourbon barrels, a warm, zesty and spiced offering that unveils new flourishes with each sip. $69.99
Bushmills 25-Year-Old
There are, of course, plenty of reliable Irish whiskies that have graced bar shelves for years. And then there's the ultra-rare Bushmills 25-Year-Old, a just-launched Irish single malt that's positively stunning (and certainly investment-worthy). 21 years of aging in first-fill ruby port pipe oak casks (and nearly six years in bourbon barrels and sherry oak butts) lends this an intensely fruity, spiced character that calls to mind other Bushmills expressions, all the while doing so in an elevated manner.
If you're in search of an Irish whiskey to truly be savored (for a long, long time), track this bottle down–if you're feeling especially lucky. $999.99
Powers Irish Rye
The classic version of Powers, adorned with a striking red label, is a staple at bars where the Irish whiskey tends to flow freely. It's a standby, but there's a companion that ramps things up a bit in matters of spice, warm intensity and of course, innovation.
Newly launched Powers Irish Rye is the first-ever 100 percent Irish rye whiskey, crafted from rye commissioned by Powers at the Cooney Furlong Farm. The result is a remarkable spirit that plays particularly well in a timeless Manhattan, in case you tire of Guinness on the holiday. $37.99
Teeling Small Batch

Among the competitive world of Irish whiskey, you've got plenty of options, particularly in the heart of Dublin itself. Teeling is bringing back a unique sense of pride to the famed Irish city's whiskey heritage, and to your bar cart, with a carefully considered, affordably priced option.
Teeling set out to challenge "the convention of what an Irish whiskey can be," and that's a two-fold approach. First, grain and malt whiskey is aged in ex-bourbon barrels, then selected and blended for a finishing process of up to a year in Central American rum casks. The result? A whiskey with intense spiced notes on the nose and palate, offset by sweet citrus and dried fruit, and a lingering finish. Did we mention it retails for under $50? We'll take another round. $43.99
The Busker Triple Cask Blend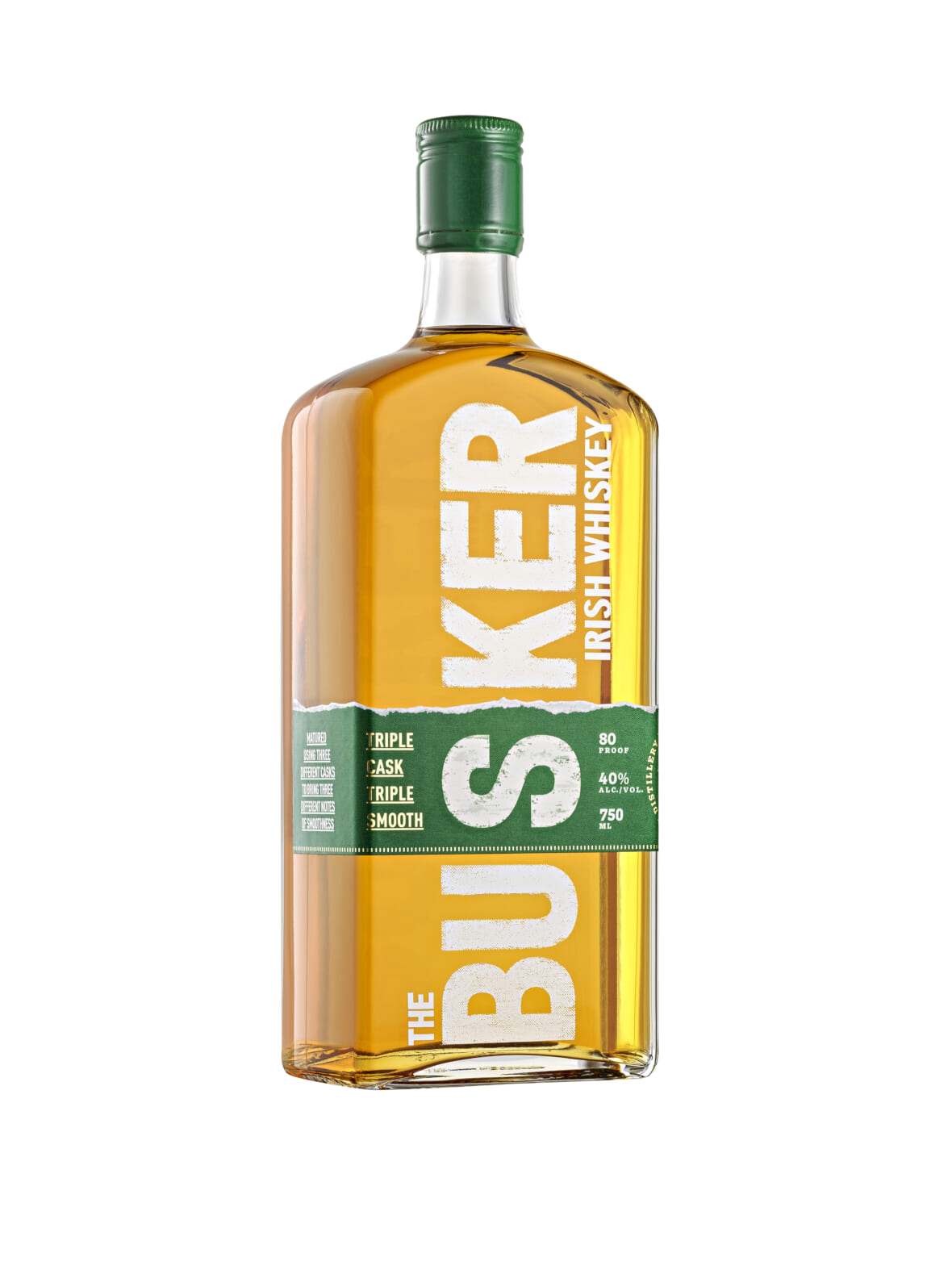 Some of the best Irish whiskey hangs its hat on the blending process, as with this expression that seamlessly melds all three expressions from The Busker. With notes of candied apple, oak and even vanilla on the nose, and plenty of malt and sweetness on the palate, this is an impressive whiskey at an agreeable 80 proof (and an agreeable price tag, for good measure). $22.99
Roe & Co. Blended Irish Whiskey

The legacy of Roe & Co., so named for Irish whiskey pioneer George Roe, is a lofty one. Roe's original company was, after all, the largest whiskey exporter in Ireland at one point, and occupied a whopping 17 acres on Thomas Street in Dublin. That makes them neighbors with that most Irish of all exports: The famed St. James's Gate Guinness Brewery.
As luck would have it, this bourbon barrel-aged blend of Irish malt and grain whiskey pairs up perfectly with the beer for St. Patrick's Day, said Guinness Brewery Ambassador Zack Berger. "A dram can take any experience to an entirely new level," Berger told Maxim. "I find myself being driven towards any sort of spirit that is barley-focused. … It is super-cohesive in that realm." Sounds like a match made in heaven to us. $38.99
Lost Irish Whiskey
Irish whiskey's heritage dates back centuries, so the introduction of a new Irish whiskey brand–barely a year old–is enough to make any seasoned Irish whiskey drinker sit up and take notice. Lost Irish sets out to harness the adventurous spirit of the nation of Ireland and the world of whiskey itself, quite literally.
Its signature expression takes a blend of grain, malt and pot still whiskies, then ages it in casks from 6 different parts of the world. That process even includes coveted Japanese Mizunara casks. The bold bottle is a handsome home bar addition, too–all for under $40. $36.99
Tullamore DEW 18-Year Single Malt Irish Whiskey
We're willing to bet you've enjoyed your fair share of "Tully Dew" on St. Patrick's Day celebrations in years gone by–perhaps you've even taken part in the "Dew and a Brew" tradition.
What the famed distillery's 18-year expression asks of you, though, is a more considered approach to imbibing. Madeira, Oloroso and Port casks deliver a rich warmth, with nose notes of oak and tobacco, further deepened by a long sherry finish. Of course, if you prefer the OG Tullamore DEW, we'd hardly bat an eye. $134.99
Slane Irish Whiskey
Accessibility is often the name of the game with Irish whiskey (perhaps a reason why it's been such a bar staple over the years). And for under $30, Slane is delivering a triple-cask spirit with a fascinating history in modern times. The distillery itself rests within the picturesque grounds of Slane Castle Estate, home to a positively massive rock festival that over the years has seen everyone from U2 to the Foo Fighters to Paul McCartney grace its stage.
The whiskey, though, is much more smooth than it is fierce and rocked-out, incorporating liquid that's been aged in seasoned whiskey, Olorosso sherry and virgin oak casks. $24.99
Legendary Silkie Dark Silkie Irish Whiskey
Donegal is perhaps known as much for its hard-wearing namesake wool as its Irish whiskey, and it's also home to the "Silkie" legend, which speaks of a fair "Silkie" maiden emerging from the sea, only to fall in love with a fisherman before the sea called her back to its depths. It's an intoxicating, soulful legend, the kind told in dark Irish pubs by flickering candlelight.
It also makes for a seriously cool label and bottle design, and fittingly enough, Dark Silkie is the sort of spirit you'd want to sip on a blustery coastal evening. It's a return to smoky Irish whiskey of years past, with tasting notes of pipe tobacco and apple giving way to oak and that peat-smoke finish. $46.99
Keeper's Heart Irish + American Whiskey
If you can't quite give up your love of American whiskey for St. Patrick's Day itself, perhaps Keeper's Heart is a happy medium of sorts. Triple-distilled pot still whiskey plays nicely right alongside a blend of American rye whiskey and Irish grain whiskey, resulting in a spirit that's at once sweet and smooth, typical of Irish whiskey, yet with pleasant rye spice.
There's a story of commitment at play here, too: Master Distiller Brian Nation believed in the young Minneapolis-based distiller so much, he relocated across the pond after a decades-long career leading the biggest names in the Irish whiskey world. The lovely bottle has a classically Irish feel and meaning, and the whiskey contained therein is a satisfying year-round sipper. $34.99
Clonakilty Single Batch Double Oak Finish
The sweeping vista of the Clonakilty distillery, perched above the Atlantic Ocean, is enough to inspire wonder–and set you down the path for a trip to Ireland. If you're unable to make that trek anytime soon, Clonakilty's lovely Double Oak finish is a worthy substitute in the meantime. A long, spicy finish plays well with ginger and hazelnut on the palate, while the regal bottle design is a pleasing addition to any bar cart. $50.99
The Irishman Single Malt Whiskey
The Irishman (a product of Walsh Whiskey, along with Writers' Tears) views its mission and focus as a "tip of the hat to Ireland's Golden Era of Irish Whiskey," which should certainly be enough to win over the hearts and minds of devout Irish whiskey drinkers.
Its triple-distilled Single Malt meets its match when aged in American Oak Bourbon and European Oak Oloroso Sherry casks, and the 100 percent Irish barley mash bill is a nod to the country's whiskey heritage. It clocks in at an agreeable and smooth-sipping 40% ABV, and would make for a fine twist on a classic cocktail this St. Patrick's Day, as the company recommends. $64.99