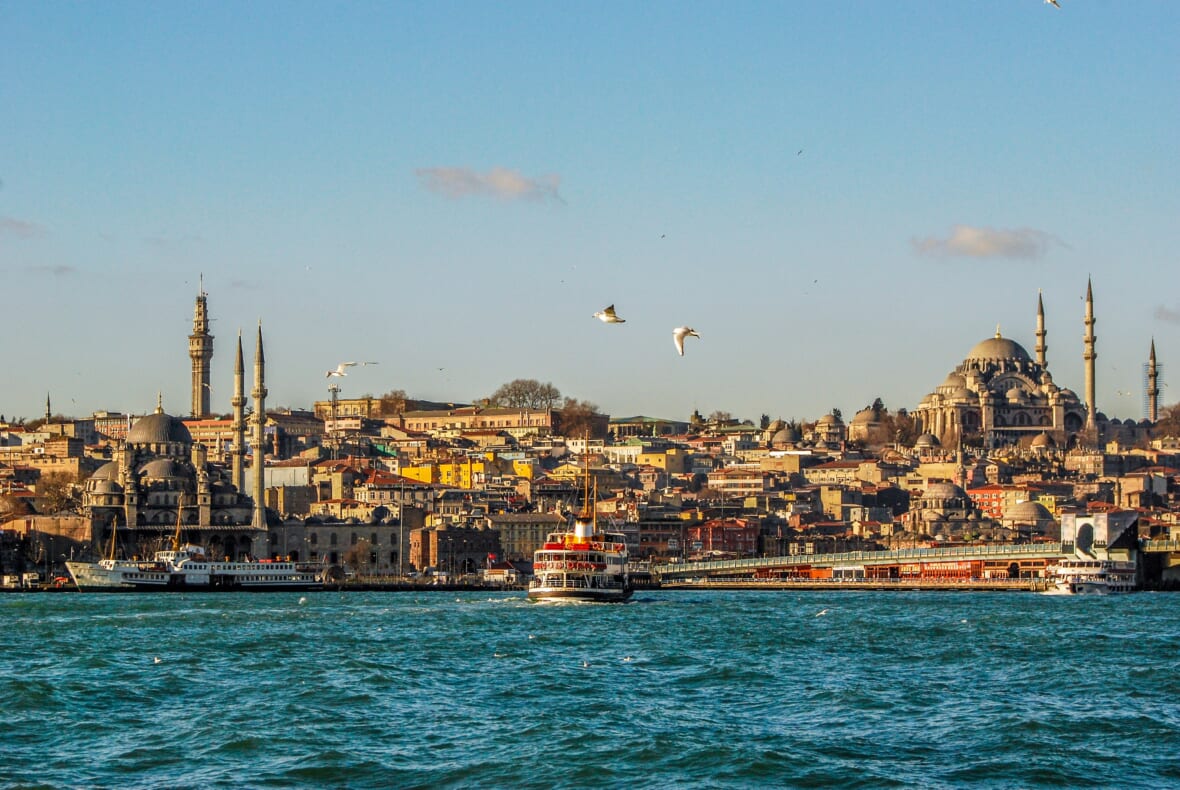 "If the Earth were a single state, Istanbul would be its capital," Napoleon Bonaparte famously said. It really doesn't matter what you get up to or where you find yourself while visiting the biggest city in Turkey; there will always be something new and exciting to discover within the confines of this mega-metropolis.
Istanbul marks the crossroads of Eastern and Western culture—both literally and figuratively—and its unique positioning between Europe and Asia makes the city a dream destination for history buffs and culinary lovers alike.
Istanbul is the most populated city in Europe. It's home to over 15 million residents, which means there are a lot of options when it comes to eating and drinking. The city boasts an abundance of high-end luxury hotels and—despite being a predominantly Islamic country—quality cocktail bars and neighborhood watering holes.
Planning a trip to Istanbul? We've got you covered. Below we're rounding up some of the best places to eat, drink, and drop your bags in the crown jewel of Turkey.
Getting There
Those traveling by air will fly into Istanbul Airport (IST), and if you're coming from the U.S. you'll likely be flying Turkish Airlines. If you weren't originally planning to fly to Istanbul and only have a short connection before your final destinations, it's worth noting that Turkish Airlines offers a complimentary "Stopover in Istanbul" program where you can actually extend your layover for up to three days (including free accommodations in a five-star hotel).
Eat
Matbah Restaurant
Here's your first tip: make sure you plan to show up at Matbah hungry…like stomach-growling hungry. The Michelin-recommended restaurant is decadent and extremely generous—not unlike most restaurants in Turkey—and serves a great example of traditional royal Ottoman cuisine. Think of it as a slice of Turkish history on a plate with old-school flavors and dishes like mahmudiye and goose kebab—all served in a stunning light-flooded dining space overlooking the city below.
Tuğra Restaurant
The Tuğra Restaurant in Çırağan Palace is really romantic. There's a good chance you'll witness at least one proposal while you're enjoying your meal. The historic dining room was designed to take full advantage of its position overlooking the sparkling Bosphorus waterways, which are best appreciated with its Michelin-recommended Turkish and Ottoman cuisine and a glass of Champagne.
Kıyı Restaurant
This waterfront fish and seafood restaurant might be a bit out of the way if you're only spending a few days in Istanbul, but it's worth the commute if you have the time. Kıyı opened more than 50 years ago and continues to be one of the best spots in the city for fresh Turkish seafood dishes (like midye dolma and izgara çipura). Istanbul certainly isn't a resort city, but this address will surely whisk you away to the tropics for the night.
Drink
Mürver
Tucked into the top of the Novotel Istanbul Bosphorus in Karaköy, Mürver has some of the absolute best views in the city made even sweeter by their award-winning cocktail list and wine selection. The year-round terrace is cozy and comfortable even into the wee hours of the night; the soft music and spacious bar space make this a great spot for chatting with friends or getting cozy with a travel partner.
Monkey Istanbul
If a laidback party vibe is more your speed, you'll want to check out the indoor/outdoor Monkey Istanbul nearby Istiklal Caddesi. The rooftop bar is casual—but that doesn't mean the drink menu isn't top shelf. Cocktails are creative and fun, there's almost always a live DJ, and the views of Istanbul (especially during sunset) are out of this world.
Chicki Boom
In the U.S. and worldwide, speakeasy-style cocktail bars are having a moment—their intimate, clandestine atmospheres are irresistible. The small, cozy Chicki Boom has allegedly become a go-to spot for local celebrities, but the understated atmosphere and slick drink menu will appeal to all.
Stay
Çırağan Palace
You really have to check into Çırağan Palace to understand the levels of luxury housed within the walls of this address. The former Ottoman palace dates back to 1863, and while it no longer houses sultans, the five-star palace remains the lap of luxury on the Bosphorus complete with everything royalty could desire—from an on-site helipad to a U.S. $35,000-per-night premium "Sultan's Suite." Guests even have access to their own vintage Rolls-Royce courtesy cars.
The Ritz-Carlton, Istanbul
If high-rise hotel rooms and unobstructed views fuel your wanderlust, you'll want to consider dropping your bags at the Ritz-Carlton, Istanbul. Each and every room promises a great view of the Bosphorus but there's also a poolside bar and terrace for enjoying the views outdoors.
The stunning property also offers modern luxuries juxtaposed with classic Turkish hospitality—from the traditional hammam to the farm-to-table dining options at Atölye. If you need a break from meze small plates, it's worth noting that this property is also home to the only Nobu in Istanbul.
Fairmont Quasar Istanbul
There's something inherently comfortable about checking into a Fairmont hotel. The brand places emphasis on history and luxury—two words that also happen to apply perfectly to Istanbul. The property boasts private Turkish baths, individual balconies, and floor-to-ceiling windows with sparkling Bosphorus views and city views for miles.
Even if you're not checking into the Fairmont Quasar Istanbul, you'll want to add the coveted Marble Bar to your must-see list; the swanky lobby bar has impressive selections of Turkish wine and elevated Turkish bar snacks.