As many people start returning to the office, we know there's a lot to (re)figure out — like what to wear on the first day back, how long your commute will take and how to stay productive. So we're sharing some tips for getting back into the office groove with a little help from Google products.
Rebuild a routine
Google Assistant Routines can help you automate tasks so you have less to do and think about before you head to work. Just say "Hey Google, good morning" and your Assistant can share news, weather or traffic updates, tell you what's on your calendar, and even get your smart coffee maker started on your morning brew. You can create a Routine based on a specific schedule or when the sun rises or sets every day.
Commute with confidence
Whether you usually hop on public transit, get behind the wheel or hit the pavement, your commute may have changed since the pandemic — or, like me, you might have just forgotten how long it takes. Check Google Maps to find the ideal time to commute and the greenest route for an eco-friendlier way to get to work.
Trying to get to the office by a certain time? Set the time you're departing or want to arrive by to see how long it'll take you to get to your destination (and to avoid getting stuck in traffic). The "Leave on Time" feature in Google Assistant Routines can also remind you when to leave, giving you the extra nudge to head out the door.
Find your new food spot
Once you get there, Google Maps can help you find the best (and most efficient) lunch options near your office.
Use Maps' popular times and live busyness information to see when restaurants are most crowded and which spots are likely to seat you immediately. To save even more time, you can also scan popular dishes and photos on the restaurant's Business Profile in advance.
If you're getting takeout, no need to miss a meeting waiting around for your delivery in your office lobby or at the restaurant. Live takeout and delivery status information lets you see the expected wait time, delivery fee and status of your order right from the Maps app — so you can make the most of your workday.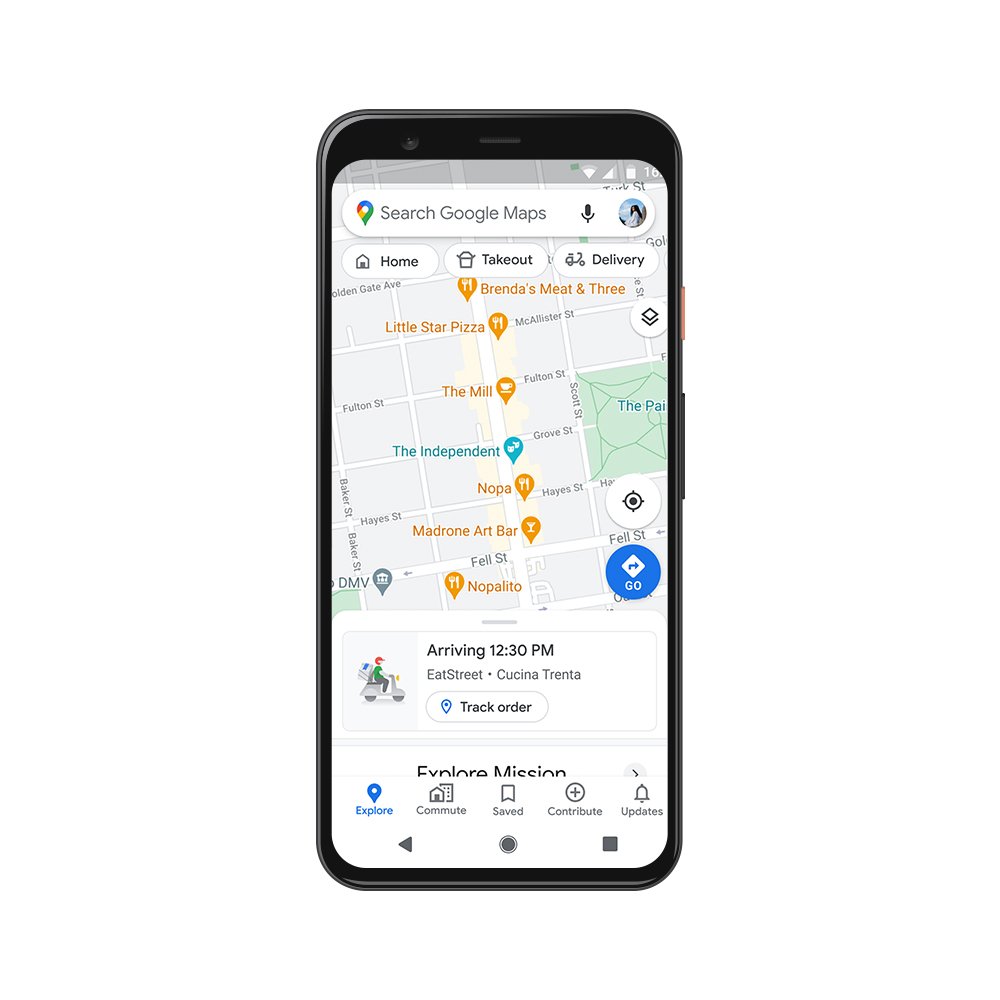 Style comfortably
Heading back to the office but not ready to dust off your work clothes? You're not alone. In fact, "how to style sweatpants" and "work-appropriate leggings" have both been trending on Google.
Search on Google Shopping and filter by style, like joggers or leggings, to find your own office-ready sweats. Pair that with "comfortable shoes for work," currently the most-searched shoe query, and you'll find the perfect blend of your work-from-home and office styles.
Meanwhile, this season's hottest work accessories are right at your fingertips. Nails are in the top-five fashion searches for back-to-the-office shopping. Check out the manicure options yourself on Google Shopping.