Canadian design duo Byron and Dexter Peart, who co-founded cult leather goods brand WANT Les Essentiels, have now turned their hand to interior design and their first project, a revamped boutique luxury resort in Belize—and it's a real knockout.
Fellow Montrealer Daniel Lighter, owner of Matachica Resort & Spa on enchanting Ambergris Caye in Belize, on the eastern coast of Central America, brought them in under the auspices of GOODEE, the Pearts' new design shop and studio.
The adults-only resort, a key member of the prestigious Small Luxury Hotels of the World (SLH), consists of 30 colorful thatched roof bungalows all situated on or near a pristine stretch of beachfront. The Pearts reconfigured the rooms and common areas to "help create more cohesion, balance, and symmetry throughout the property, while also recreating previously unused areas for guests to enjoy."
Lighter tells us vis-a-vis the revamp, "Merging functionality, practicality and the inherent beauty of Matachica's locale and architecture, every design element was measured against a singular concept: Design with purpose. This philosophy served as the cornerstone for each of the upgrades implemented—each detail chosen with care and intention."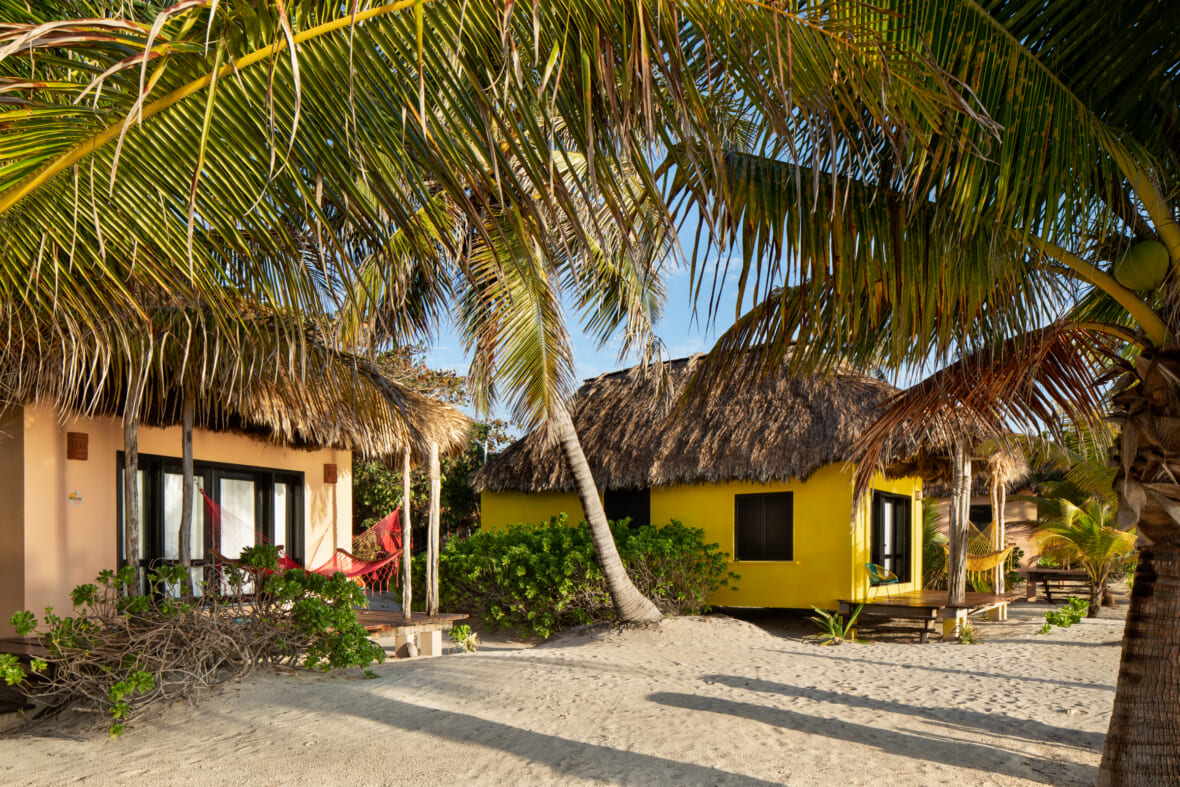 He adds that, "In a globalized and hyper-connected world, we often lose the authentic experience when visiting a foreign country. At Matachica [we] work incredibly hard to ensure our guests have an experience that connects them back with themselves, their travel partner and to the local culture and nature that surrounds them during their visit."
The Pearts themselves tell us that, "Taking this redesign from concept to completion was an ideal project for us. Our worldly sensibility, attention to detail and experience curating brands uniquely positioned us to work with Matachica. The result is a redefined Belizean beach experience that honors craftsmanship, sustainability and functionality."
As part of the project they added additional café eating and dining spaces, enhancing them with bright natural light and desirable sea views, while "flex and modular" seating areas were added to the living space to "accommodate casual dining and conversation."
With an emphasis on eco-friendly design, natural materials abound. This is nowhere more evident than with the new Danny's Tree Bar, a circular bar built around one of the property's magnificent trees. It is conveniently located right next to the property's picturesque swimming pool, a shady refuge from the sun.
Providing a "fun meeting and drinking destination, the bar is designed to "seamlessly integrate into its outdoor surroundings with the help of a locally- sourced wooden bar top, bamboo base, and artisanal Tucurinca cubico barstools." The drinks also reference the locale with ingredients from the surrounding coastline and countryside.
Each of the bungalows is now outfitted with a special detachable hammock system, "offering guests the opportunity to enjoy calming sea views from their porch." Reimagined interiors feature fully-renovated en-suite bathrooms with upgraded fixtures and eco-friendly amenities by Haeckels.
The bedroom walls have also been adorned with tropical custom murals by renowned Montreal-based illustrator Cécile Gariépy, "a personal favorite of Byron and Dexter Peart's for her ability to tell playful stories using color and composition," who also hand-painted all of the signs throughout the hotel.
Everything from the furniture, textiles, grooming amenities and decorative objects was chosen by the Pearts from a roster of "conscious brands are dedicated to creating design solutions through the preservation of tradition and environment."
In 2021, Matachica launched Mambo Bistro spearheaded by Chef Léon Cerredo from Paris, France, and Baker and Pastry Chef Stephen Lighter (son of property owner Daniel Lighter). The reimagined dining spaces and refined menus "seamlessly blend global techniques with local flavors and practices."
Cerredo and Lighter traveled the length and breadth of Belize, "visiting the country's local cacao and vanilla farms, plantain fields, and a variety of food producers" to gather inspiration and sign up suppliers for the new menu. The menu also features produce from the organic garden at Matachica's sister property, GAÏA Riverlodge, which was expanded during the pandemic.
"We have great respect for the Belizean community and culture, so our goal was to unite the hotel's guests and local community by crafting a vibrant space where individuals could gather to break bread together,' Stephen Lighter tells us. "We wanted the menu to be a reflection of that so we focused on enhancing our dishes with the refined techniques we've learned along the way to create an experience that is truly unique."
One thing you'll definitely notice while sampling the world-class cuisine is the wine list, which offers many exclusive bottles from cult wineries that are impossible to find elsewhere in Belize. The wine selection was carefully chosen to not only "reflect Matachica's brand and values," but focus on vintages that are "very refreshing and drink well in Matachica's [tropical] climate."
If Belize wasn't previously on your bucket list, Matachica's fantastic reinvention should surely earn it prime placement. The design cred is impeccable, as are the food and drink, and the lush, tropical setting on its pristine bay is as Instagram worthy as any of your Caribbean fever dreams.