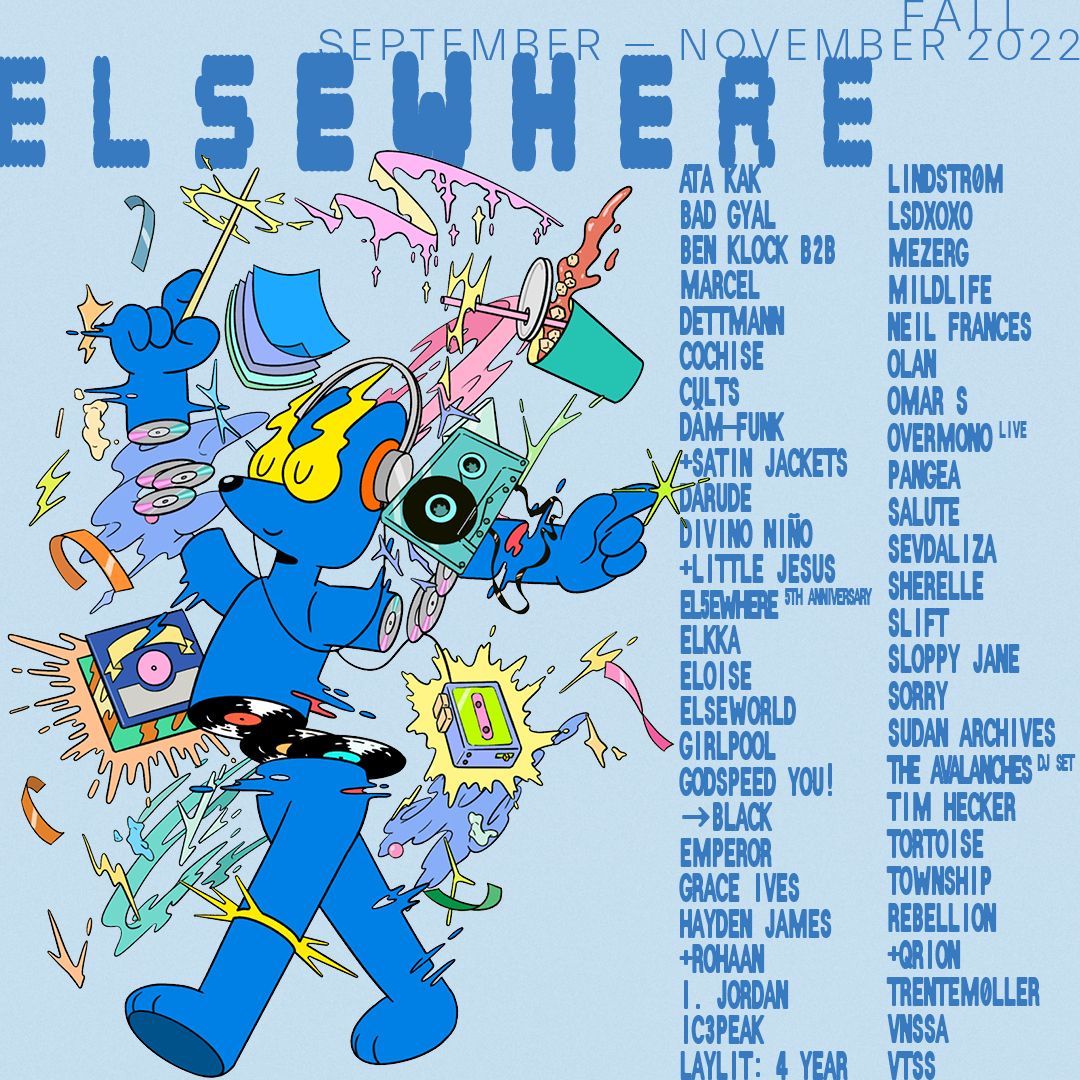 Brooklyn independent music venue Elsewhere has announced its Fall 2022 season lineup and fifth anniversary celebrations. Performances from September to November will include notable artists Sherelle, Ben Klock and Marcel Dettmann with Levon Vincent, VTSS, IC3PEAK, and Overmono (Live).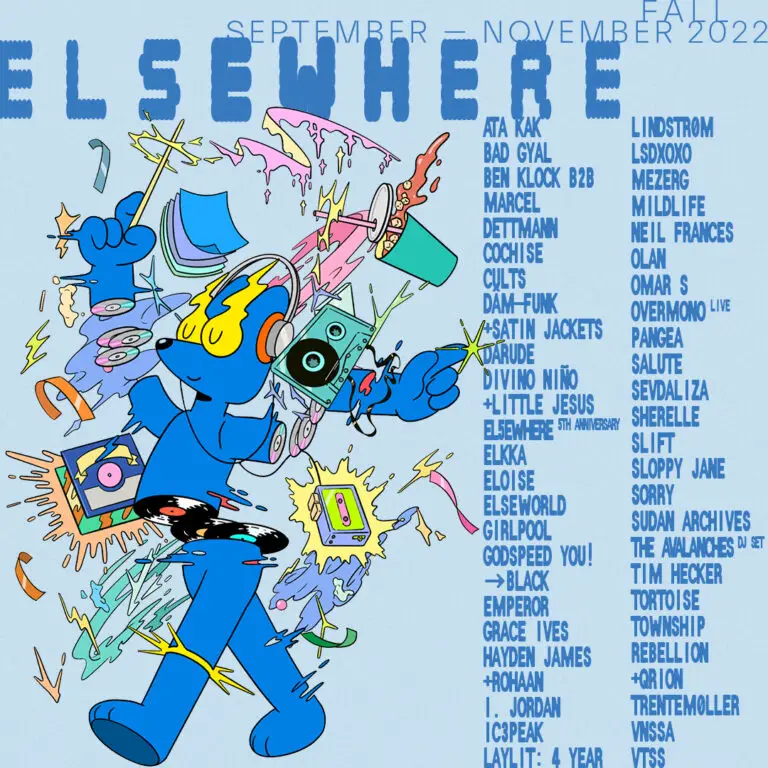 Based in Bushwick, Brooklyn, Elsewhere is a multi-room live music venue, nightclub and arts space that celebrates creativity, diversity and multi-disciplinary artistic expression and experimentation. Founded on Halloween in 2017, Elsewhere have hosted thousands of artists, presented over 20,000 hours of live music, and staged over 600 events each year.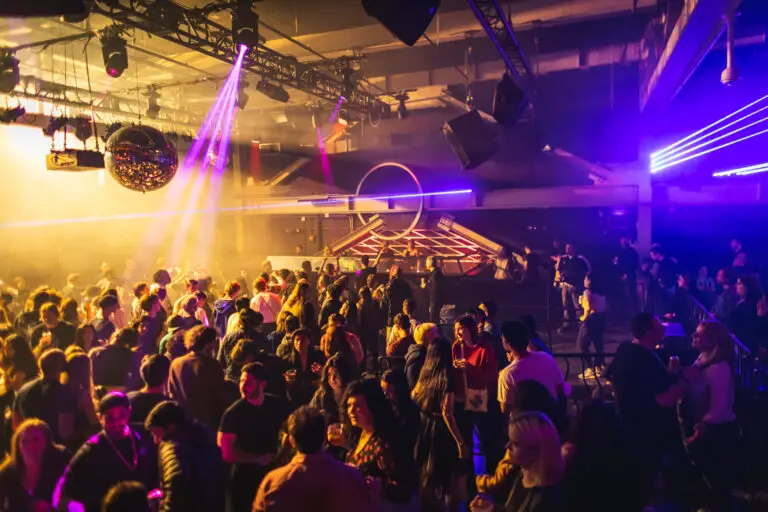 "There's a lot of uncertainty in the world right now, but we continue to see that our community strongly wants to be out and experiencing togetherness again. Emerging artists are cautiously and safely making up for two years being unable to tour, and Elsewhere was built to support them and be a cultural beacon for New Yorkers." 
Elsewhere went through the difficulties in pandemic period with continous performances and high attendance rates in 2022 summer season. Their belief of creating a space for all to experience live entertainment that's reflective of their personal experiences attributed to the venue's success. In recent months has cooperated with Ray Ban, Brooklyn Magazine and more, connecting its partners with emerging culture.
"It's all about supporting emerging culture and the best of what's next. We've seen that it will always resonate with people. With the support of our community, we're already back to pre-pandemic levels of attendance and energy, which is the right way to ring in Elsewhere's five-year anniversary this October."

Rosenthal
On October 31, 2022, Elsewhere will celebrate its fifth anniversary as Brooklyn's leading independent music venue with full details on the anniversary celebrations forthcoming.
2022 Fall Events
Fri, 9/2: Dâm-Funk + Satin Jackets
Thu, 9/8: Grace Ives
Fri, 9/9: Bad Gyal
Fri, 9/9: Darude
Sat, 9/10: VNSSA
Sat, 9/10: Pangea
Fri, 9/16: Sherelle
Fri, 9/16: Laylit – 4 Year
Sat, 9/17: Olan
Tue, 9/20: Tim Hecker
Fri, 9/20 + Sat 9/21: Neil Frances
Thu, 9/22: Girlpool
Fri, 9/23: Ben Klock with Marcel Dettmann and Levon Vincent
Sat, 9/24: Omar S
Sat, 9/24: LSDXOXO
Sun, 9/25: Lindstrøm
Tue, 9/27: Cochise
Fri, 9/30: Ata Kak
Fri, 9/30: Elkka
Fri, 9/30: VTSS
Sat, 10/1: I. Jordan
Sat, 10/1: Hayden James / Rohaan
Sun, 10/2: Tortoise
Wed, 10/5: Divino Niño + Little Jesus
Thu, 10/6: Trentmøller
Fri, 10/7: Township Rebellion / Qrion
Sat, 10/8: The Avalanches (DJ Set)
Wed, 10/12: Sudan Archives
Thu, 10/13: Mildlife
Fri, 10/14: IC3PEAK
Tue, 10/18: SLIFT
Wed, 10/19: Eloise
Fri, 10/21: Overmono (Live)
Sun, 10/23: Sloppy Jane
Thu, 10/27: Mezerg
Mon, 10/31: #EL5EWHERE: 5th Anniversary Celebration
Wed, 11/2: Sevdaliza
Fri, 11/4: Salute
Wed, 11/16 + 11/17: Godspeed You! Black Emperor
For more information and to view Elsewhere's events calendar, visit www.elsewherebrooklyn.com.
The post Elsewhere Announces 2022 Fall Season Lineup appeared first on NYS Music.