The upper limits of whiskey are still relatively uncharted, at least in the burgeoning American single malt category. And just as it did with rye whiskey, WhistlePig is looking to take the category to new heights, and they want you to clear some space in your whiskey collection in the process.
The new WhistlePig The Béhôlden 21-Year sets out to find that upper limit, billed as the first-ever super-aged North American Single Malt, with an age statement more than twice as old as its closest competitor. Impressive (and very likely delicious) stuff, yes?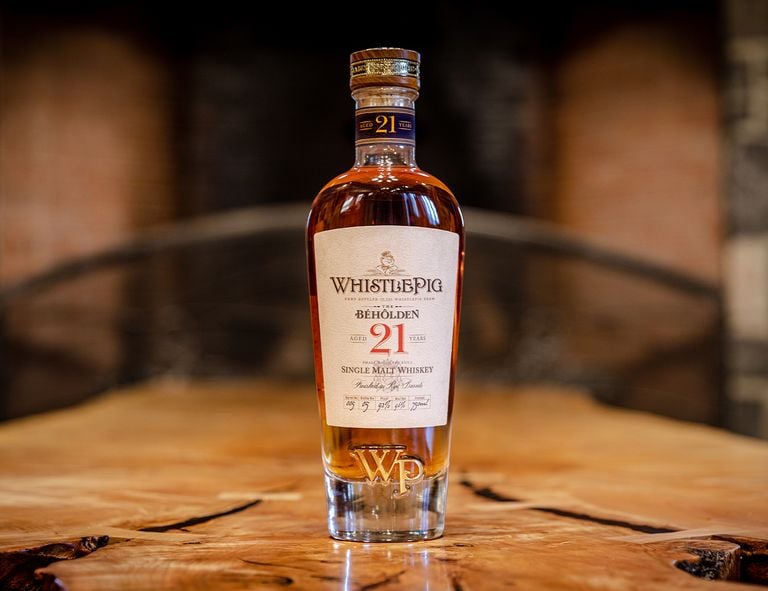 The new WhistlePig The Béhôlden is, accordingly, a hot seller. Even with an MSRP of $800 per bottle, it has already sold out on WhistlePig's online shop, yet there's no telling how much it might be resold for among voracious whiskey enthusiasts.
WhistlePig calls the effort a "a whiskey of singular repute" after 21 years of aging in American Oak. Of course, WhistlePig put the liquid to the ultimate test with a four-month finishing process in its famed WhistlePig rye barrels.
That rye finishing process, as WhistlePig notes, adds "savory spice and subtle smoky notes," which the famed Vermont distillery rightfully calls a "game-changer."
In even more fitting fashion, WhistlePig calls the whiskey the "holy grail" of American single malt, and its speedy sales process to date backs up that assessment.
Curious whiskey lovers will perhaps be further intrigued by its origin: As with other WhistlePig whiskies, the distillery worked with partners in Canada on this whiskey, yet the exact origin of the rare run of 18 casks is unknown.
You might say the whiskey encapsulates both the journey and the destination, and it's delivered accordingly in a handsome and display-worthy engraved wooden box. The American single malt category might just be heating up, but if WhistlePig has anything to say about it, it's going to stay a hot commodity for quite some time.
For now, keep your eyes peeled for a forthcoming 2024 American single malt from the distillery.