In 1925 the already legendary, 29-year-old F. Scott Fitzgerald and his wife Zelda moved into a picturesque Art Deco villa in Cap d'Antibes, France. Escaping the endless, alcohol-fueled parties at home—or so they thought—Fitzgerald settled in to write his next masterpiece, Tender is The Night.
By the end of their stay, the French Riviera had become a playground for wealthy Americans, Fitzgerald had a damn fine novel on his hands as he waited for the reviews of The Great Gatsby to come in.
In the 1930s the charming villa was reinvented by Boma Estène as a boutique luxury hotel catering not only to Fitzgerald fans but discerning travelers from near and far. Now, expanded since Fitzgerald's day and known as the Hôtel Belles Rives, it is one of the Riviera's top properties in the prestigious Small Luxury Hotels of the World (SLH) portfolio, and is still owned by the Estène family.
At the helm of the five-star retreat these days is 41-year-old Antoine Chauvin-Estène, who has made it his mission to "impart an egalitarian and refreshing approach to this emblematic Riviera classic."
"This year, we celebrate the opening of our newly refurbished Bar Fitzgerald which has been completely renovated," Antoine told us during a recent visit. "Its decor is contemporary with a gentle nod to its storied past, and while we did completely gut the place and start from scratch, we did want to protect its nostalgia; so we also used a mix of its former furniture, artwork and light fixtures."
He adds, "I like to call it a modern interpretation of itself and a gathering place not only for hotel guests, but for people visiting the region and those expats who call Antibes home." In addition, "We also continue to renovate rooms every year." As the fourth generation of his family to run the iconic property, "I maintain the ethos of those before me, and believe that hotels such as Belles Rives with an historic reference should stay true to their roots, their heritage and substance."
Antoine notes that, "While of course we must make improvements such as modernization and decorative changes, the structure of the building remains the same, as does its soul. We also use architectural references to its past in our decor, whether that's a pattern from the iconic mosaic lobby floor or [Fitzgerald friend and fellow local Pablo] Picasso's ceramics, the Riviera lives on in sensibility and style."
"It is [Fitzgerald's] lifestyle which is reflected in the soul of the place. Hotel Belles Rives epitomizes living well, and is an authentic interpretation of Fitzgerald and his friends' lives during their time on the French Riviera. While we are a boutique hotel, it feels more like a large home—or villa—which is was when he lived here. We want our guests to feel that way too."
The justly-famous Bar Fitzgerald is "an ode to the writer and it showcases many photos of him and those considered part of The Lost Generation. Of course one of my favorite rooms, the Zelda suite, is an ode to his wife. Further, each year, we also hold the 'Prix Fitzgerald' or Fitzgerald Literary Prize," given to an author who evokes the spirit of Great Gatsby author in his or her own prose; winners have included the likes of Jay McInerney and Whit Stillman.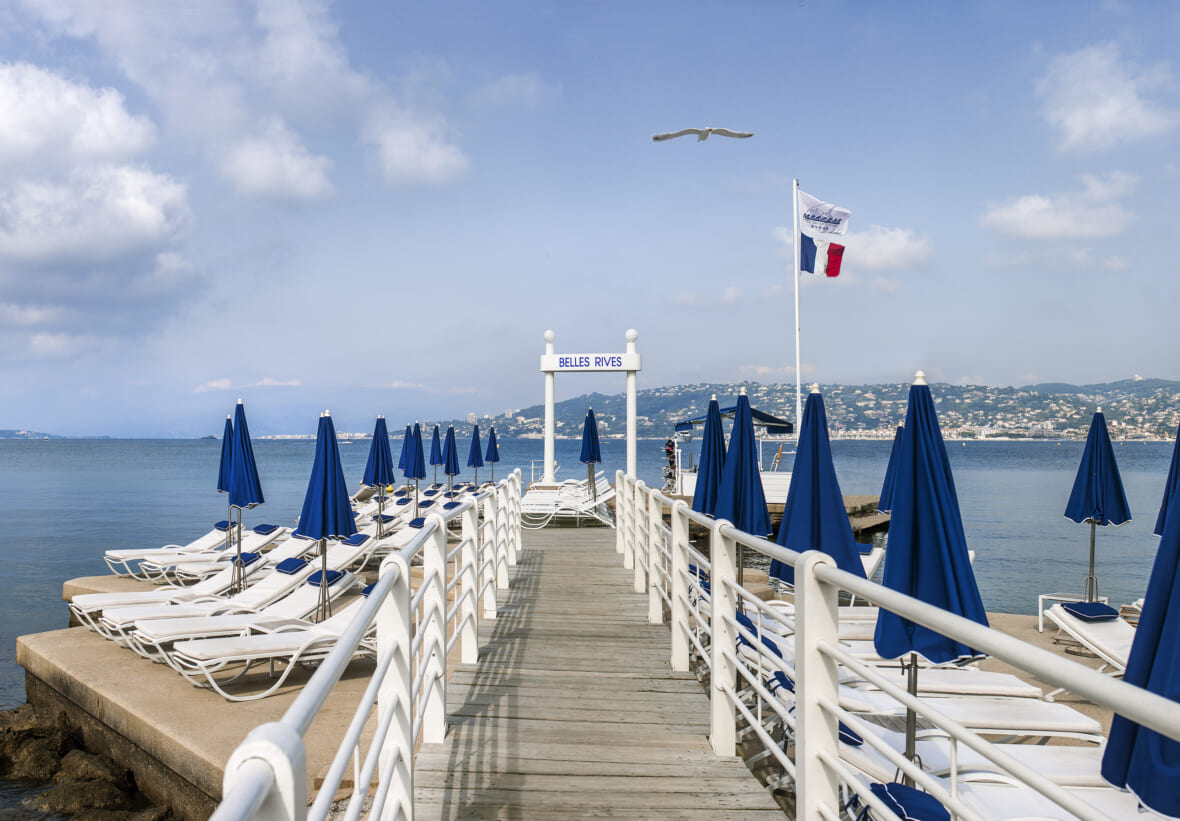 Antoine points out that, "We are one of the only family-owned and operated, luxury and historical hotels in our immediate region. We also pride ourselves in not being run by a major hotel chain like many of the big luxury hotels on the Riviera. Our location is also very special."
He notes that, "While we are within walking distance to the center of Antibes, we are waterfront—quite literally on top of the sea—and set in our own bay, so both guests of the the hotel and outside visitors can enjoy a private beach club experience. This is a rarity on the Riviera."
Guests stay at Belles Rives for the privacy, he says, "so our clientele are those who do not want to be seen. They are unpretentious and feel more at home here than a larger hotel, and with only 43 rooms and suites, we are able to cater to those guests more closely. They also tend to dine on property."
With three dining venues plus PASEO restaurant at their sister property Hotel Juana, "our guests have four dining options during their stay," Antoine says. "So they tend to check in and stay put. We get to know their preferences and personalities which they appreciate, which to me is a reflection of true hospitality. And so we have a very strong repeat clientele."
The Belles Rives is home to one of the finest restaurants on the Riviera, La Passagère, which has a Michelin star. It is led by young chef Aurélien Véquaud whose "nouvelle vague" approach to fish and seafood is creating a buzz on the Côte d'Azur, and its postcard-worthy oceanfront terrace is where the truly coveted tables are.
For La Passagère, Aurélien looks to the Mediterranean Sea, amplifying classic seafood dishes by "introducing new and emerging marine vegetables and herbs, such as glassworts or sea purslane (obione) and sea asparagus (salicorne)," to round out the restaurant's three prix-fixe menus. The accompanying wine list is of course suitably spectacular.
La Plage meanwhile is the spot for lunch at the waterfront Belles Rives beach club. There's also a Water Sports Club—waterskiing is said to have been invented here—and the jetty is home to the hotel's private boat dock. Above sits the jewel box of a spa, with treatments featuring luxe Swiss Valmont products designed to get you in shape for your next Bar Fitzgerald session.
Nor is Bar Fitzgerald only for drinking. It features a selection of small plates inspired by Aurélien's travels and modeled on a "menu of the world": Neapolitan pizza, truffled tarama salata served with blinis, and a poke bowl with marinated tuna inspired by Aurélien's love of Japanese cuisine.